5 Spring Superfoods To Eat This Season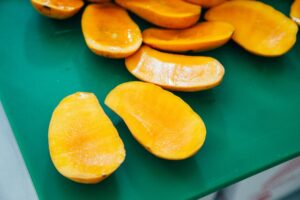 There are a lot of products claiming to treat or prevent COVID-19. Please remember these claims are NOT backed up by science. There is no dietary supplement or food item that has been proven to treat or prevent COVID-19. On the other hand, something that has been proven to be helpful for your health and is backed up by science is eating more fruits and vegetables. Recent research provides evidence that eating 10 servings of fruits and vegetables per day is best in preventing chronic diseases and premature mortality. My advice? Keep it simple. Start small. Figure out if you are eating fruits and vegetables every day. If you aren't, start adding a fruit to breakfast or vegetables with dinner. Use this list of 5 to get you started and as always, don't hesitate to contact the dietitians at Yummy Body Nutrition to help you come up with a plan that makes sense for you!
1. ASPARAGUS
Benefits: asparagus is packed with nutrients – fiber, potassium, folate, and antioxidants – all of which are great for disease prevention. Asparagus can be added to so many types of dishes – pastas, soups, stews, omelettes, or salads.
Tips on adding asparagus to your day:
Breakfast – chop up asparagus and add it to your morning omelette!

Lunch – roast asparagus in the oven on a baking sheet with olive oil, grated parm, and Everything but the Bagel seasoning as a side to a sandwich or mixed into a salad.

Dinner – saute cut up asparagus in a pan with seasoning to add to your pasta. Great way to spruce up your pasta with more nutrients which will have you feeling more full and satisfied!

Snack – make some baked parmesan asparagus fries! All you need is asparagus, parmesan cheese, whole wheat bread crumbs, and some flour – quick, easy, and a healthy snack.
2. MANGO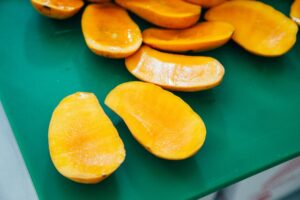 Benefits: mango is high in vitamin A (helpful for skin, eyes, and bone health), and a good source of vitamin C (helpful for wound healing, resistance to infection, and increases iron absorption).
Tips on adding mango to your day:

Breakfast – add frozen mango to a smoothie, throw some diced mango into your oatmeal, or have it on the side with whole grain toast.
Lunch – make a Caribbean tuna salad with tuna fish, mayo, diced mango, and sliced avocado on whole grain toast or crackers.
Dinner – saute diced mango in a pan with garlic and olive oil and add it to sauteed chicken, brussel sprouts, and rice for some additional flavor.
Snack – fresh cut mango is a great snack to have mid afternoon when you are craving something sweet. Don't like fresh? Try dried mango! Just make sure the ingredient list does not have "sugar" listed. It is sweet enough the way it is!
3. PEAS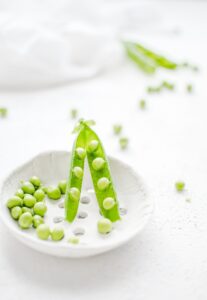 Benefits: peas are an excellent source of vitamin C, good source of vitamin A, folate, and fiber. ½ cup of peas provide 4g of fiber and 4g of protein! To help put that in perspective, most men and women are recommended to eat at least 25g of fiber per day and at least 15g of protein per meal.
How to add it to your diet:
Breakfast – mix peas in with your scrambled eggs and spinach to add more fiber and protein to your morning meal.
Lunch – add peas to your next pasta dish – an easy, quick, and healthy way to add more vegetables. Try Banza or Explore Cuisine pastas for additional fiber and protein.
Dinner – make shrimp fried rice with sauteed peas, carrots, and onions! Don't eat fish? Sub shrimp for a protein that you do enjoy – chicken, tofu, beans, edamame, just to name a few.
Snack – involve the family! Make crunchy roasted green peas in the oven. All you need is peas, garlic, and salt. If you buy frozen, allow them to thaw. Blot the peas to get as much moisture off as you can, place them in a bowl and combine with olive oil and garlic. Spread on a baking sheet with aluminum foil or parchment paper and bake in the oven for 30 minutes!
4. ORANGES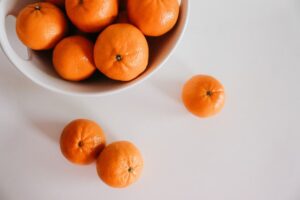 Benefits: another food high in vitamin C and a good source of fiber! Store at room temperature for 1-2 days or refrigerate for 1-2 weeks.
How to add it to your diet:
Breakfast – add sliced oranges to your breakfast parfait – include yogurt (choose one with at least 12g of protein per serving i.e. Chobani less sugar or Siggi's) and nuts (walnuts and almonds pair well with yogurt).
Lunch – throw together a salad and top it with sliced oranges for a sweet and juicy kick!
Dinner – cook this easy and quick sheet pan salmon recipe with broccoli and sliced oranges. Prep time: 5 minutes. Cook time: 25 minutes!
Snack – involve the family! Make chocolate dipped oranges. What you'll need: 2 oranges peeled and a bag of dark chocolate chips. Melt the chips in a bowl on the stove or microwave, dip the sliced and peeled oranges into the melted chocolate. Let it sit for 5 minutes then put them in the fridge for 10-15 minutes to let the chocolate harden!
5. STRAWBERRIES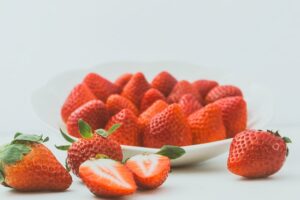 Benefits: loaded with vitamin C, dietary fiber, anthocyanins, and more, strawberries hold an important role in disease prevention. Research continues to reveal positive associations between strawberry consumption and heart health, cancer prevention, weight management, inflammation, and even brain health.
How to add it to your diet:
Breakfast – throw some cut up strawberries into yogurt, oatmeal, cereal, or a smoothie to make a more impactful and nutritious meal.
Lunch – keep it simple! Add a bowl of cut up strawberries on the side with whatever you have for lunch. Strawberries pair really well with all types of foods.
Dinner – make a strawberry blackberry quinoa salad! Add chicken, beans or tofu for some extra protein.
Snack – strawberries make a great, sweet and juicy, afternoon snack. A perfect pick-me-up to give you a nice boost of energy mid-day.
If there is a fruit or vegetable listed above that you have tried before and did not like, I would encourage you to give it another try! Our taste buds change over time and something you may not have enjoyed before could eventually become your favorite food. There is even research to suggest we can "train our brains" to like certain fruits and vegetables! Visit the Fruit and Veggies website below to give you more ideas of fruits and vegetables in season: https://fruitsandveggies.org/stories/whats-in-season-spring/
Resources:
https://www.fda.gov/news-events/press-announcements/coronavirus-update-fda-and-ftc-warn-seven-companies-selling-fraudulent-products-claim-treat-or
https://fruitsandveggies.org/stories/whats-in-season-spring/
https://www.calstrawberry.com/en-us/Nutrition
https://www.calstrawberry.com/Portals/2/Documents/Nutrition/California%20Strawberries%20Health%20and%20Nutrition%20Research%20October%202019-%20FINAL.pdf?ver=2019-08-26-103648-220

https://fruitsandveggies.org/recipes/caribbean-tuna-salad/