Success Story: How a client lost 60 lbs and exactly what she eats in a week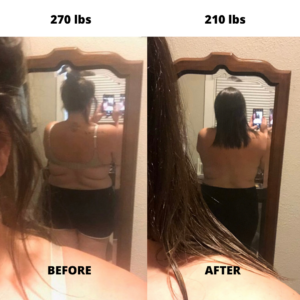 This client came to us back in June and was referred by her primary care doctor. Her goal was to lose weight but to ultimately have a better relationship with food since she also struggled in the past with bulimia.
Below is an actual email that our featured client sent to a friend who was looking for advice.
Ok I may get more in depth than you were bargaining for with this meal plan! I'll include links to recipes along with on each day. Skinny Taste is an awesome blog, she has TONS of recipes for free and I use her every week to help decide what I'm going to eat. If there's anything you don't like that I picked for the week I'd recommend going to her website to find an alternative. www.skinnytaste.com
Portion Sizes I weigh everything I eat. If you're not weighing you're not getting an accurate look at how many calories you're eating. Over time you get an idea of what portion sizes look like, but I think it's good to weigh in the beginning.
Tracking I track everything in the My Fitness Pal app on my phone. There are a ton of similar apps, this is just one I've found that I like. If I have a day that I'm a little low on my calories I'll increase how much protein I'm allowing myself at each meal. I try to load up on lean protein and high fiber veggies the most to keep me full and pretty low cal. My goal in the app is 1450 calories a day, but I like to try to come in around 1200 every day so that if I go over a little on the weekend it balances out. Usually on what I have planned for my meals I come in around 900-1000 but that gives you room for snacks, protein shakes, creamer in your coffee, etc.
Snacks I completely avoid buying junk because I can't do in moderation. Snacks are used to manage hunger in between means if necessary. An apple with a tablespoon of peanut butter, string cheese and 2oz turkey, carrots and 2oz hummus are some of my go to's. I like them to be around 200 calories. I typically do a banana before each workout and a protein shake after but didn't include in the meal plan.
Substitutions These are all just suggestions on what has helped me. Some substitutions I make might not be sustainable for you. I basically have a vendetta against white potatoes and rice and sub cauliflower versions for everything. If you hate cauliflower rice, that will never work for you. Find the things you don't mind switching out for something lower cal. I hope this helps!
Monday
Breakfast-cottage cheese and 3 oz raspberries. I like good culture 2% cottage cheese. If I can't get that brand I look for the lowest cal/highest protein option at the store in bulk and do 1 cup.
Lunch- 1 can tuna with plain Greek yogurt (I like fage 0% the best. I'll get a little cup of it and use maybe half of it for the tuna) 1 capful apple cider vinegar, salt and pepper to taste. If you think I'm nuts, go ahead and use a tablespoon of mayo instead. 2 slices sprouted grain bread, as many baby carrots and I feel like.
Dinner- turkey meatball stroganoff (she says 5 meatballs, I normally do 3) over mashed cauliflower (1 serving, check on package and weigh) instead of pasta and 3.5oz steamed broccoli with nothing on it
Tuesday
Breakfast- cottage cheese and raspberries
Lunch-leftover turkey meatball stroganoff
Dinner- baked chicken thighs with brussels sprouts and sweet potato (I do around 3.5-4 oz chicken, and about 3 oz each of brussels sprouts and sweet potatoes)
Wednesday
Breakfast-cottage cheese and raspberries
Lunch-leftover chicken thighs with brussels sprouts and sweet potato
Dinner- 5oz salmon (I use 0 cal spray oil on the pan, salt pepper and lemon only on the fish) with 1 cup edamame "fried rice"
Thursday
Breakfast-cottage cheese and raspberries
Lunch- leftover edamame fried rice with 4oz chicken
Dinner- Lentil soup (if you can't find red lentils, any lentil will work)
Friday
Breakfast- cottage cheese and raspberries
Lunch- leftover lentil soup
Dinner- sweet potato taco (my invention) Bake medium sweet potato and fill with taco stuff. You can use ground beef, turkey, or chicken. Cook fully and drain. I'm usually lazy and get organic low sodium taco seasoning packet, follow directions on the packet. 4oz meat, 1 oz reduced fat shredded cheddar cheese, 2 tablespoons salsa, 1 tablespoon light sour cream, hot sauce if you want.
Saturday
Breakfast-cottage cheese and raspberries
Lunch-I always end up with too many leftovers from the week. Whatever is left that I feel like eating.
Dinner- out
Sunday
Breakfast-cottage cheese and raspberries
Lunch-leftovers again, probably a sweet potato taco
Dinner-I normally come up with my plan for the next week on Sunday and get whatever I'm going to eat that night on my grocery trip.